Empowering E-commerce: Leveraging Data for Informed Decisions
Empowering E-commerce In today's digital age, data is the lifeblood of e-commerce. Successful online retailers understand that making informed decisions is paramount to staying competitive. This article explores how the use of data-driven strategies is transforming the e-commerce landscape and revolutionizing decision-making in online retail.
The Power of Data in E-commerce
Understanding Data-driven E-commerce
Data-driven e-commerce, as the term suggests, involves using data and analytics to inform various aspects of online retail operations. From understanding customer behavior to optimizing supply chains, data plays a pivotal role in shaping decisions.
Benefits of Data-driven Decision-making
1. Enhanced Customer Experience
By analyzing customer data, online retailers can personalize recommendations, emails, and marketing campaigns, leading to higher customer satisfaction and loyalty.
Data-driven insights enable the tailoring of product recommendations to individual preferences, ultimately boosting sales.
2. Inventory Management
Data analytics helps in predicting demand trends and inventory turnover rates, reducing overstocking and understocking issues.
Online retailers can optimize stock levels to ensure products are available when customers want them, improving the overall shopping experience.
3. Pricing Strategies
Dynamic pricing based on real-time market data allows e-commerce businesses to adjust prices competitively.
This approach maximizes revenue and profitability while remaining agile in response to market fluctuations.
Harnessing Customer Data for Personalization
Utilizing Customer Insights | Empowering E-commerce
1. Customer Segmentation
Through data analysis, retailers can segment their customer base into groups with similar preferences and behaviors.
This segmentation enables the delivery of targeted marketing messages and product recommendations, increasing conversion rates.
2. Predictive Analytics
Predictive analytics uses historical data to forecast future customer behavior.
Online retailers can anticipate what products a customer may be interested in, reducing browsing time and enhancing the shopping experience.
Streamlining Supply Chains with Data | Empowering E-commerce
Data-driven Supply Chain Optimization
1. Demand Forecasting
Historical sales data and market trends help predict future demand for products.
This allows for better allocation of resources and inventory management, reducing waste and costs.
2. Real-time Inventory Tracking
Utilizing RFID and IoT technologies, online retailers can monitor inventory in real time.
This minimizes the risk of stockouts and ensures accurate order fulfillment.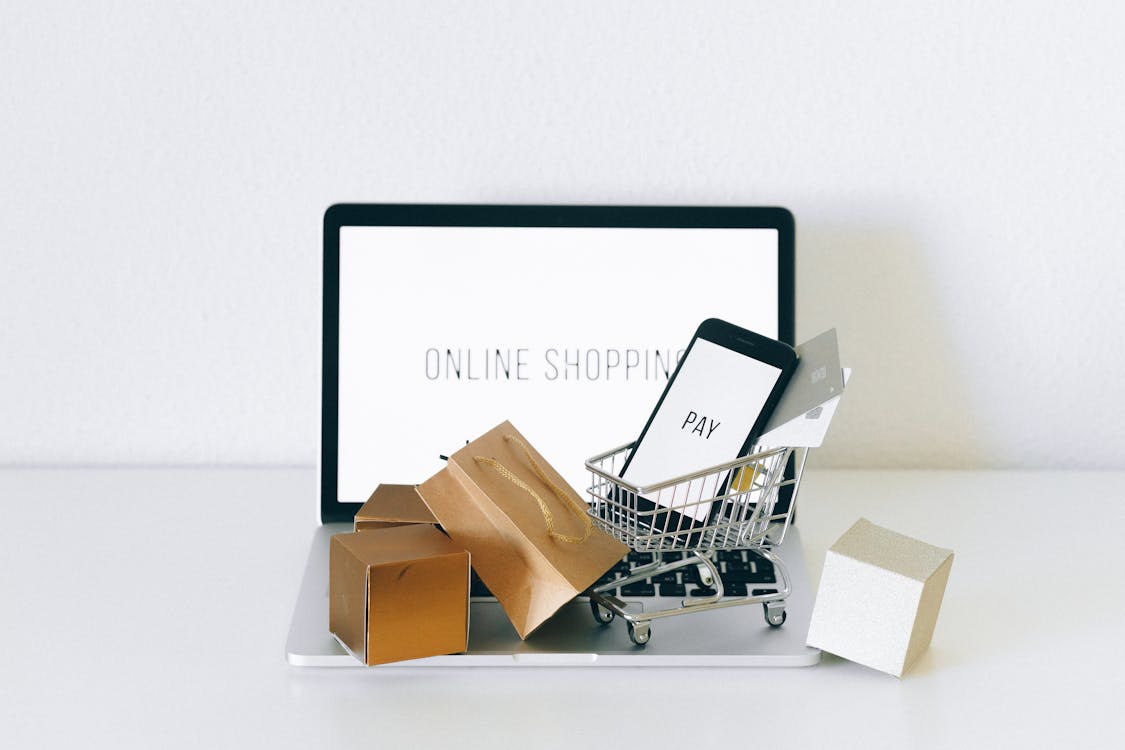 Overcoming Challenges | Empowering E-commerce
Data Privacy and Security Concerns
The use of customer data for decision-making must be carried out with utmost responsibility and transparency. Online retailers should prioritize:
Secure data storage and encryption to protect customer information.
Compliance with data protection regulations, such as GDPR, to maintain trust and avoid legal repercussions.
Data Quality and Interpretation
Accurate and clean data is essential for reliable decision-making.
Employ data quality assurance processes and ensure that staff understand how to interpret data correctly to avoid costly errors.
Future Trends | Empowering E-commerce
Artificial Intelligence and Machine Learning
1. Automated Decision-making
AI algorithms can make real-time decisions based on vast datasets.
This reduces the response time to market changes and enhances customer interactions.
2. Predictive Analytics Advancements | Empowering E-commerce
Continued advancements in predictive analytics will refine demand forecasting and customer behavior prediction.
Online retailers will gain even more precise insights into their customers' preferences.
"Data-driven e-commerce is not just a trend; it's a fundamental shift in the way we do business in the digital age." – John Doe, E-commerce Expert
In the ever-evolving world of e-commerce, Decision-making in Online Retail harnessing the power of data-driven decision-making is no longer an option but a necessity. Online retailers that prioritize data analytics and embrace the potential of data-driven e-commerce will not only survive but thrive in this competitive landscape. By enhancing customer experiences, optimizing supply chains, and staying attuned to emerging trends, e-commerce businesses can truly empower themselves to make informed decisions and drive success. | ASK