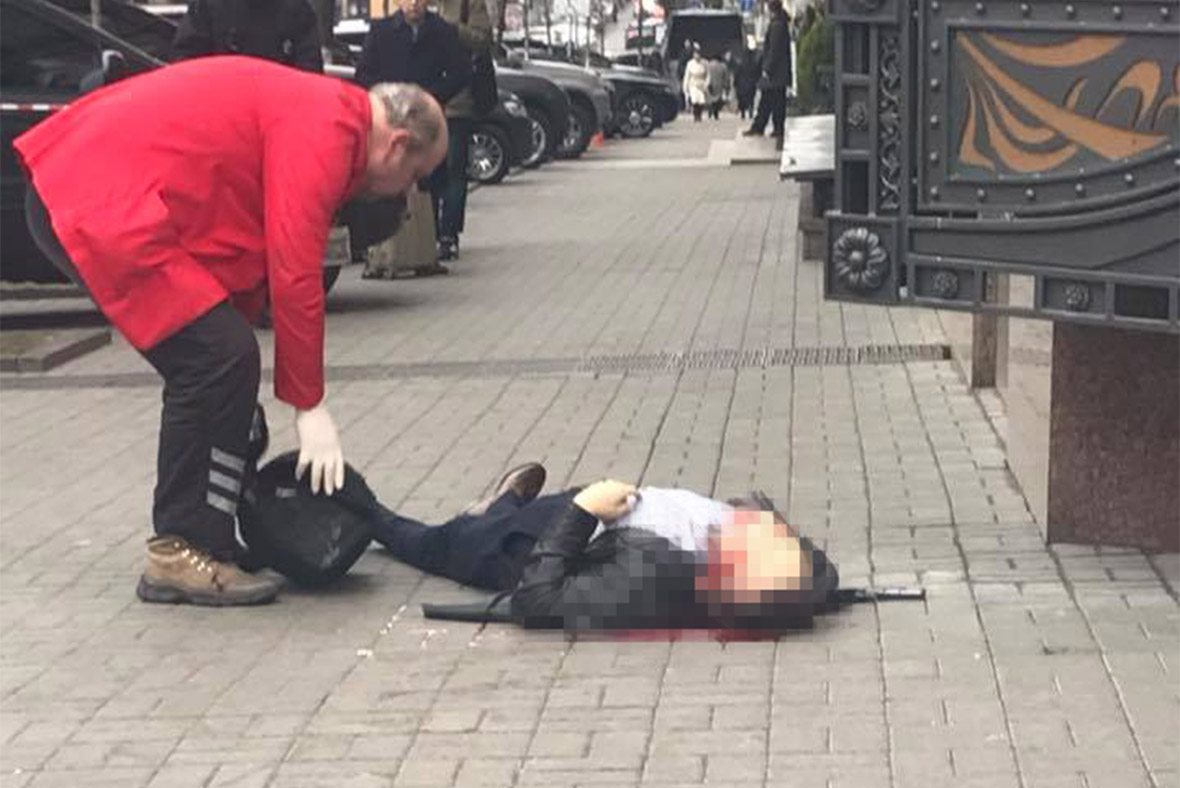 Ukrainian police said Mr Voronenkov was shot by an unidentified gunman at the entrance of an upmarket hotel in the Ukrainian capital.
A former Russian member of parliament, and outspoken critic of President Vladimir Putin, was shot dead Thursday outside his hotel in the Ukrainian capital of Kiev.
The former Russian Duma member was a key witness in a treason case against Viktor Yanukovich, the pro-Russia former Ukrainian president, who fled during the Maidan protests of 2013-2014.
"He was killed by a Russian security services agent embedded in Ukrainian law enforcement agencies; he was serving for them and received the order to eliminate Russia's enemy - Denis Voronenkov", Gerashchenko said in the political talk show "Right to Power" aired by the 1+1 channel.
Russian officials denied involvement in the slaying and accused Ukraine of being responsible for Voronenkov's death to "provoke" the Kremlin.
"It is clear that there is indeed Russian sabotage, there is indeed a Russian policy to put pressure on Ukraine by using violence and terrorist tactics, but not everything is necessarily down to that", Galeotti said. His bodyguard and the assailant were both injured in the confrontation.
Relations between Kiev and Moscow are at an all-time low after Russia's annexation of the Crimean peninsula in March 2014 and the subsequent outbreak of separatist fighting in Ukraine's eastern Donbass region that has killed more than 10,000 people.
After Mr Voronenkov's move to Ukraine, Russian investigators filed fraud charges against him in connection with his business activities.
Anton Gerashchenko, an adviser to Ukraine's interior minister, identified the man who shot Voronenkov on Thursday as 28-year-old Pavel Parshov and said he had been trained in Russia by Russian security services. Voronenkov told Radio Free Europe in February that he had been helping prosecutors build a case against the deposed Ukrainian president.
Not long after the killing, the Kremlin dismissed any suggestion that it was involved. This month, a Moscow court ordered the arrest in absentia of the former deputy.
Lutsenko said investigators were looking into Voronenkov's role in exposing a contraband ring in Russian Federation which cost several senior security officers their jobs, and also his testimony on Yanukovych as possible motives behind his killing.
Peskov said that he hopes that all those responsible for the crime will be tracked down.
Since fleeing Russia, Voronenkov had complained to journalists and Ukrainian authorities about threats to his and his family's safety.