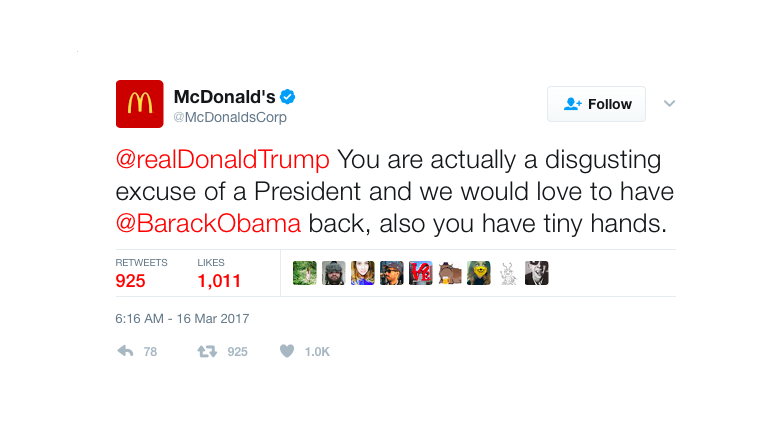 McDonald's Corporation (NYSE:MCD) claims that its Twitter Inc (NYSE:TWTR) account was hacked following the posting of an anti-Trump Tweet. A spokeswoman for McDonald's, Becca Hary, said Twitter notified the company that its account had been compromised.
McDonald's Corporation was quick to remove the anti-Trump Tweet from its Twitter account.
McDonald's further stated that they are investigating into the matter.
The boycott voices were strong on Twitter, but the Tweet also had some support from people who tied the unhealthy fast food menu to the habits and tastes of Trump voters.
Moreover, Trump has made no secret of his affinity for Big Macs, and has often extolled the virtues of fast food restaurants due to their uniform standards and cleanliness.
As for the bogus tweet from McDonald's, some fans were lovin' it on Thursday.
The incident marks the latest social-media encounter between corporate America accounts and Trump, who uses Twitter heavily to tweet his thoughts, share news stories and promote his policies.
Or maybe McDonald's is actually jumping off the fence and standing its ground against Trump.
"One bad hamburger, you can destroy McDonald's". "I'm a very clean person". "And I think you're better off going [to McDonald's] than maybe some place that you have no idea where the food is coming from". "It's a certain standard".
However no number of Big Macs could rival the guerrilla missive issued from the fast food giant's official corporate account on Thursday afternoon.