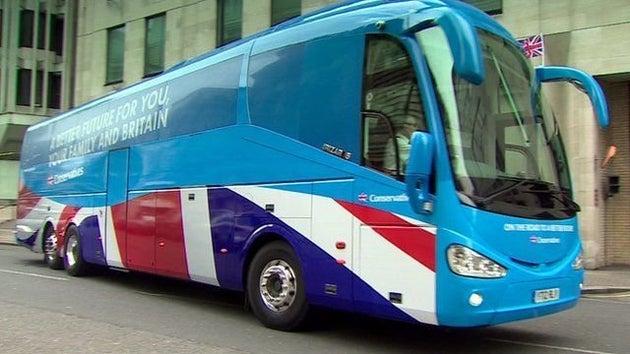 An investigation was launched previous year for allegedly breaching election spending limits and making false financial declarations.
But a CPS spokesman said it had received files from: Avon & Somerset, Cumbria, Derbyshire, Devon & Cornwall, Gloucestershire, Greater Manchester, Lincolnshire, the Metropolitan Police, Northamptonshire, Nottinghamshire and West Yorkshire police.
It is understood Staffordshire Police has also sent a file, but this could not be confirmed by the CPS.
Prosecutors are expected to make their charging decisions...
"I would ask those individuals to think about the cost of this investigation, the important work those police officers could have instead been doing over this lengthy period, the stress that it put me, my family and my team under and the reputational damage to me personally". Mr Quince said he had voluntarily attended an interview under caution at a police station in January.
"We have an email from central office saying: all battlebus spending will be declared nationally and therefore there is no need to declare it locally. We investigated the matter and no criminal offences were identified and no further action will be taken".
Particular attention was given to the Conservative Party's "BattleBus 2015" campaign, which saw activists bussed to 29 marginal constituencies in England, including Lincoln. The Labour Party and Liberal Democrats both failed to declare sums of money which constituted a larger proportion of their national expenditure in the 2015 general election.
The CPS list does not include Kent Police, which is reported to have interviewed Thanet South MP Craig Mackinlay under caution last week.
The disclosure follows the revelation that Craig Mackinlay, who defeated Ukip leader Nigel Farage to hold Thanet South for the Tories, was questioned for six hours last week by Kent Police. Mr Quince claims the accusation was "vexatious and politically motivated".
The Conservative party said it accepted the Electoral Commission findings but attempted to downplay them as a "reporting error" and claimed "political parties of all colours have made reporting mistakes from time to time".
On Sunday former Conservative Party Chairman Grant Shapps told The Sunday Times that Theresa May's Chief of Staff was at the centre of the campaign. In a statement, Mr McCartney said he had made clear his "forthright views" privately to a number of senior party figures on behalf of backbenchers.
The investigation has sparked a Conservative civil war, with a third MP, Karl McCartney, protesting that a draft report into the controversy has been withheld by Tory central office.