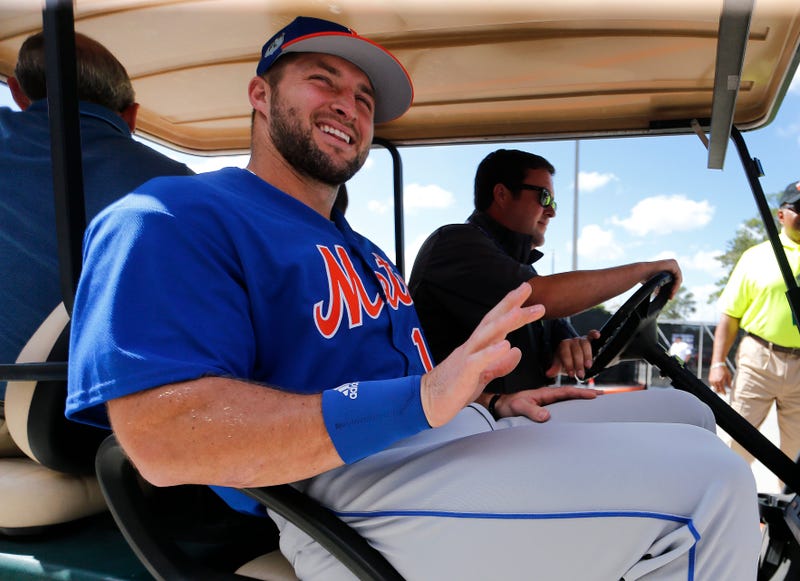 Tim Tebow has allegedly been dealing with a stalker at Mets spring training camp.
According to a Port St. Lucie police incident/investigation report (via the New York Daily News), Michelle Marie Thompson was questioned February 26 near the players' parking lot gate at First Data Field.
A Colorado woman charged with trespassing at First Data Field last month claimed to have been there because she was in a relationship with Tim Tebow, the Treasure Coast News reported after obtaining a police report.
When questioned why she was staying at the complex so long, Thompson said she was there because she is in a relationship with the quarterback turned baseball player. After the police officer asked whether Thompson was in a "friendly relationship, a platonic relationship, a romantic relationship or possibly a matrimonial relationship?"
She even knew Tebow's Jacksonville, Florida address.
Michelle Marie Thompson, 36, of Arvada, Colorado, was arrested February 28 and charged with trespassing. When she finally did, the cop saw a sticker on the back of the driver's license that read "I (Heart) Jesus/Tim Tebow", police said.
Following a three-year National Football League career that saw him play for the Broncos and Jets, Tebow decided last year to try his hand at baseball, a sport he excelled at in high school. She kept asking questions about Tebow. Thompson then responded, "giggling" and said "all of the above". When she asked where she should go, the officer told her it was probably best for her to leave St. Lucie County.
A court clerk at the St. Lucie County Clerk's office confirmed to ESPN when reached by phone Friday afternoon that Thompson appeared on a misdemeanor trespassing charge on Friday morning at 9:30 a.m. via jail video. The Heisman Trophy victor won two national championships at Florida and played in the NFL from 2010-2012 and later joined ESPN as a college football analyst.
It's insane how much Tebow sucked in this game.