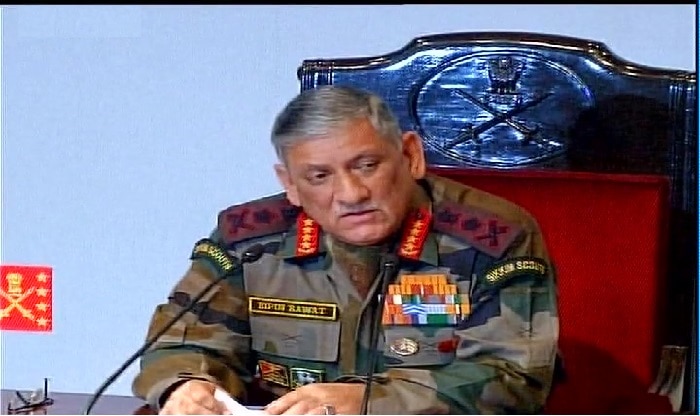 "I don't think we in the Indian Army who have been trained to fight our enemies can allow such people to survive in our own organization. they need to be exposed", he said.
Gen Rawat, while speaking of many other issues, used the opportunity of his annual address to pre-empt a selfie video being shot by an Army jawan, given that more videos are surfacing from various paramilitary wings every day since BSF's Tej Bahadur Yadav uploaded a video claiming lack of adequate food and corruption on part of his seniors.
Assuring full confidentiality, Rawat said anyone, irrespective of rank or service, can use this mechanism so that grievances can reach him directly.
Gen Rawat would, however, further strengthen the perimeter security of the army camps following last year's terror attacks in Uri and Nagrota.
In an address to officers in the EAC on December 31, Bakshi had said he was not resigning so that he could fight the "smear campaign" that had been launched to malign his image in the run-up to the Army chief 's selection by the government, as was then first reported by TOI. Anybody having any complaint can use those boxes to voice their dissatisfaction.
Rawat said the soldiers should write to him with their names but he will ensure that the names of the complainants are deleted before any follow-up action is taken. In typical fauji culture, the army will watch who salutes whom when Rawat visits the eastern command or when they come face to face in any other theatre. "Grievance boxes have been placed in Army HQs, whoever has a complaint can submit there, we will address", he added.
On the allegations levelled by Army jawan Lance Naik Yagya Pratap Singh on social media, the Army chief said, "This boy (the jawan) had a grievance".
He strongly defended the sahayak system in the army saying that it was an important and was a personal system between the officer and jawan.
The army chief also spoke on the topic of Indian soldier Chandu Chavan, who had inadvertently crossed the Line of Control (LoC) into Pakistan and was detained by the Pakistani forces. A similar video of a CRPF constable had also come into light.